Review: Pocket Neighborhoods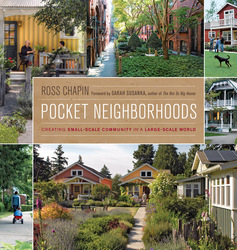 Pocket Neighborhoods: Creating Small-Scale Community in a Large-Scale World.
I rely on architecture books to get my creative fix. Ross Chapin's "pocket neighborhoods" are of particular interest to me as my professional life focuses on how communities can address instability in the global system. He's on to something.
The book is a meandering look at what he calls "pocket neighborhoods." In Oakland, the Dutch experience, Portland, Seattle. These are "a cohesive cluster of homes gathered around some kind of common ground within a larger surrounding neighborhood," and are designed for the 60% us that live in ones and twos.
Here's a diagram to clarify:
Essentially, these developments are designed to align neighborhood infrastructure with behavior that emphasizes the community rather than the automobile, street, or individual – in effect, formulating 'synthetic tribes'. People who share a future, a present, and possibly a past – by participating in the design process. They share tools, buildings, places for kids to play, porch-conversations, community dinners etc. And their homes don't boast giant street voids.
It's a relatively simple concept and Chapin does a good job explaining and addressing obvious questions. Privacy –  The homes "essentially spoon" to preserve privacy. There's a zoning issue (too densely packed) in most places that needs to be addressed through legal means. And these houses are indeed on the small side (many examples of dozens of houses on less than 3 acres).
Interesting to note that he thinks the upper limit is 12-16 homes. (This may be true, though you can probable co-locate multiple neighborhoods to get closer to Dunbar's 150 people.)
Overall, it was thought provoking. These are proto-resilient communities. By concentrating on efficiency gains (small, efficient homes with mild solar augmentation) they're lightly insulated from the shocks of the global system. There's a few pages I highlighted entirely to share with friends and family – pocket family compounds (a few houses in close proximity for you and yours), as well as the design principles that existing neighborhoods used (local 'ingredients' and best practices). There's a lot more to be done, but this was a pleasant overview of what's being done already, from the ground up.
-Shlok
Sign up for my newsletter.
---